Print Page
Visas
Express Entry
YOU SELECTED THIS OPTION BECAUSE:You are seeking an invitation to apply for a Permanent Residency in Canada.
As of January 1, 2015, applicants in the Federal Skilled Worker Program (FSWP), Federal Skilled Trades Program (FSTP), the Canada Experience Class (CEC) and the eleven skilled Provincial Nominee Programs (PNPs), will have to first register an "intent" to immigrate to Canada before filing an application for permanent residency under the Economic Class.
The process of submitting an intent to immigrate is referred to an "Expression of Interest" (EOI). This EOI is submitted online via the CIC portal. The EOI consists of an "upload" of your profile. All uploads go in a "pool" of applicants.
On a monthly basis, a "draw" takes place to select the highest scoring profiles in the pool. If you are selected, you will then be selected to apply under the relevant Express Entry subcategory (FSWP, FSTP, CEC, PNP).
Invitations are not based on a lottery system and are not based on a first-come-first-serve system (as in the case prior to January 1, 2015) but on a Comprehensive Ranking System (CRS) bell curve system whereby only those with the highest score (relative to others) will be invited to apply for an economic class visa such as the Federal Skilled Worker Program.
The CRS score will be determined at the preliminary EOI stage when applicants answer questions such as age, education levels, work experience, language proficiency, spousal information on the above, to name a few of the criteria. Following those entries, a CRS score is determined and used to rank your application vis-à-vis other first round applicants.
In short, applicants who register in the first round will be given a CRS score prior to each draw. Only those in a yet to be disclosed percentile will be formally invited to apply for the relevant program be it FSWP, FSTP, CEC or the applicable PNP. We suspect that those with "arranged employment" are practically guaranteed to receive an invitation to apply under one of four economic classes given the applicant is given a bonus of 600 points when sponsored by a company.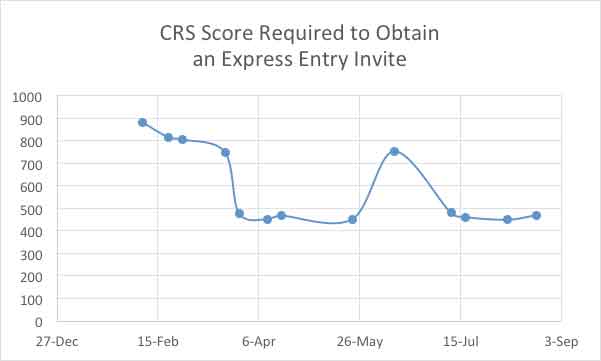 While CIC does not divulge the required CRS Score needed to obtain an official invitation, our firm has gained precious knowledge and insight of what a target score should be to secure a precious invitation letter (see table above).
A consultation, dubbed an Express Entry Assessment, is also helpful in learning how you can increase your CRS score. If, following a positive Express Entry assessment (that is determined following a one-on-one consultation), we determine that an EOI is worthy of an investment, our firm can prepare and upload your Express Entry profile on a Client's behalf.
When an invitation is issued, Express Entry deliverables would transition to the applicable deliverables for the desired economic program. For example, if we are to secure an invitation to apply under the Federal Skilled Worker Program (FSWP), a client would have the option of engaging our services to prepare and represent a FSWP application.
Express Entry Upload Deliverables:
Assess your Comprehensive Ranking System (CRS) Score
Assess affordable strategies to increase the CRS Score
Assess your score and eligibility in the relevant economic program (FSWP, FSTP, CEC, PNP)
Assess overall probability of obtaining an invitation to apply in the applicable program
Review required paperwork to upload an Expression of Interest (EOI)
Provide recommendations for a more robust file
Provide a checklist of needed items with detailed advice and instructions
Prepare and upload an EOI via the CIC portal
Prepare and upload a resume on the federal job bank (if requested)
Correspond with CIC on Client's behalf throughout the process
Coordinate formal filing when invitation is received in the relevant economic program
GAIN ACCESS
Schedule a
FREE


Inquiry now.

Speak to a licensed professional.
Temporary
Resident Permit
(TRP) Help.
Call Toll-free within the United States.
(888) 827-6605